Book your stay
Interested in more information about Ssese Islands Beach Hotel?
Please contact us by completing the information form below. You will receive a response within 48 hours. Reach us at +256 772 408 244 or e-mail sibh@sseseislandsbeachhotel.com
Traveling to Ssese Islands
Entebbe Route
The MV Kalangala ship from Entebbe to Ssese Islands docks at Lutoboka pier, only 300 metres from our hotel.
With a capacity of 108 people and 10 small vehicles, it proves to be reliable and cost effective mode of transport to the Island passing through various scenery and is an experience of its own. Leaving daily at 2pm from Entebbe, it's a 3 hour journey arriving at Lutoboka pier at 5pm.
Masaka Route
Two and a half hours from kampala to Nyendo (masaka)
40 minutes from Nyendo to Bukakata ( Masaka)
30 minutes crossing by ferry from Bukakata to Bugoma (Ssese Islands)
40minutes from Bugoma to Kalangala Town
5 minutes drive from kalangala Town to final destination Ssese Islands Beach Hotel.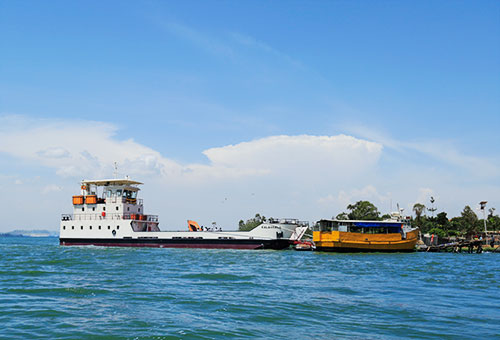 Booking
Visitors can make bookings or payments at our head office:
Kitintale, Port Bell Road,
Plot 548 Kitintale,
near UMEME & NSWC Kampala Water offices
Or any of the Spotclean Dry Cleaners branches:
Garden City Mall branch, Lower Ground Floor
Lugogo Mall, near Barclay's Bank ATM
Jinja Road opposite Victoria University.
We accept these major credit cards.

Scroll to Top